Polycarbonate sheets have excellent weather conditions, absorbing the bad effects of sun rays, (UV Resistance), separating the heat and cold effect of the air thanks to their grooves, their standard dimensions are 210 cm and they are produced in 4,6,8,10,16 mm thicknesses. It is applied in greenhouses because it can be bent cold and hot and can be shaped easily. Besides its ease of application, it is long-lasting.
WHAT IS POLYCARBON GREENHOUSE?

Greenhouses made of polycarbonate You can maximize your crop yield thanks to the "polycarbonate greenhouse".
Polycarbonate Sheets maximize the use of natural light energy, helping to regulate the internal temperature for a more effective heating and cooling system, thanks to their highly insulating properties.
If requested, Polycarbonate Sheets, to which Light Diffuser additive is added during production, prevent the sun's rays to spread by refracting in the greenhouse and thus prevent the plants from getting sunburned.
Again, thanks to Polycarbonate Sheets produced by adding IR additive depending on the demand, the temperature difference between night and day is reduced by preserving the heat of the greenhouses. In winter, dew in the greenhouse minimizes the risk of frost and accelerates plant growth by preventing plants from getting stressed.
Other names of Polycarbonate Sheets in the market: Polycarbonate Sheet can be named as polycarbonate, polycarbonate, lexan, lexan, transparent sheet, skylight coating, glass polycarbonate, glass polycarbonate, transparent skylight, etc.

STANDARD POLYCARBONATE SHEETS FOR GREENHOUSES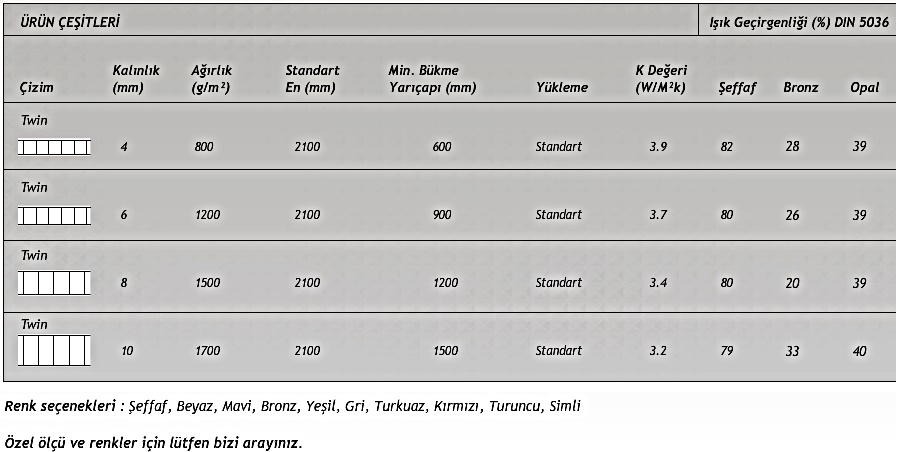 THE DIFFERENCE OF POLYCARBON GREENHOUSE AND GLASS GREENHOUSE
Polycarbonate Sheets are products with very high light transmittance, providing excellent impact resistance and thermal insulation.
Corrugated Polycarbonate Sheets; It is more durable than glass of the same thickness and weighs 6%.
Solid Polycarbonate Sheets; It is more durable and 50% lighter than glass of the same thickness.
Example: 10mm flat glass weight: 25kg/m2 - 10mm Solid polycarbon weight: 12kg/m2 - 10mm corrugated polycarbon weight: 1.7kg/m2
Polycarbonate Sheet; It is an impact resistant material that can be bent hot or cold.

PRACTICAL USE OF POLYCARBON GREENHOUSES

We wanted to share some practical information about the Practical Use of Greenhouses Made of Polycarbonate, Polycarbonate Sheets. In our country, the sun is not always the same temperature and does not burn in the same way. In Izmir, Ankara, Mardin, Urfa, Van, Kars, Trabzon, Giresun, Antalya, Mersin, Istanbul or in any part of our country, the sun is not the same, besides, cold weather is experienced all over Turkey due to different climatic characteristics. Polycarbonate, polycarbonate materials with this name are preferred in greenhouse construction because of their excellent resistance in all weather conditions, absorption of the bad effects of sun rays, (UV Resistance), separation of the heat and cold effect of the air thanks to its grooves, standard dimensions of 210x600 cm and 4, 6, 8, Produced in 10, 16 mm thicknesses. Coming to cold and hot bending and thus easy shaping. In addition to its ease of application, it is long-lasting.
Because of all these, polycarbonate sheets are used in greenhouses, greenhouse walls and ceilings, hobby gardens, signage floors, pavement boards, ceiling lighting, roofing, pool closures, bus stops, public places, sound barriers, overpasses, roof lights, factory window. and other lighting purposes, facade applications, entrance eaves, patio and terrace roofs, fixed and opening pool cover systems, passages between buildings, sports halls, car park areas.
So How Are Greenhouses Practically Used?
How nice it is to have a small greenhouse to be able to grow your own vegetable seedlings in the spring, to have tomato and eggplant seedlings that you have grown by protecting them from bad weather, or to eat salads even when there is snow on the streets until the middle of winter! There are some times in them.
For example, the first salad seeds are planted in February; After a few weeks, squash, cucumber and pumpkin seeds can be planted. It is important not to forget to plant annual flowers during this period (kosmos flower, marigold...). In April: the first tomatoes (early varieties) are planted, and then the largest part of tomatoes, peppers and eggplants, which can sometimes produce until the end of the year. In October: celery and parsley are uprooted and continue to grow in the greenhouse. Curly salad seedlings sprouting in the garden are planted; thus providing curly throughout the winter season. This is complemented by the production of chicory grown in the cellar with salads grown outside during the winter months: thus the greenery needs of the whole family are met all winter long!
In the same period, the verbena that likes in the garden is removed and placed in pots under the greenhouse; After late frosts, it is placed back into the soil in Spring.